Home
ColonBene
It has been developed as a natural food and it is a purely natural health-enhancing tea drink.
Designed for people suffering from disorders of the digestive tract.
Made of alkaline water, made only of herbs, does not contain chemicals, additional substances and preservatives.
Does not have any secondary side effects on the human organism.
ColonBene acts positively
In case of acute conditions as diarrhoea, inflammatory and ulcerative diseases of the gastrointestinal mucosa (oesophagus, stomach, pancreas, small and large intestine). It also helps to eliminate the problems caused by Ulcerative Colitis and Crohn's Disease that lead to cancer. Its use to a considerable extent therefore preventively counteracts cancer. 
ColonBene regenerates and strengthens
The mucosa of the digestive tract even in healthy people. Counteracts a bowel obstruction as a very mild toothbrush and facilitates metabolism. Reduces obesity overweight. Has influence on regular and healthy stool.
Has a rapid effect on inflation, heartburning and stomach irritation.
Acts as a very effective probiotic on the regeneration of the entire digestive system after taking antibiotics.
ColonBene and its consistency
It is a pure tea drink, of the herbal taste and the colour of honey.
When drinking it, you can feel on your tongue a mild oily consistency created by plant proteins and oils that have been produced from herbs in the course of their technological processing during the production process.
Its effect has been further enhanced by the use of pure alkaline water (water that is called live water).
The secret of ColonBene is designed for all of you, for your relief and your help.
We digest together ...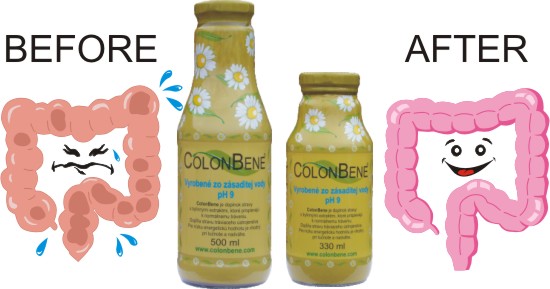 Novinky
Copyright 2017 - 2019 © colonbene.com
E-shops for rent - Atomer.com